Site menu: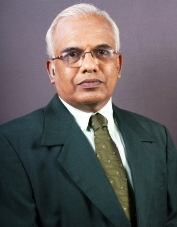 About Dr. Ram
Dr. Ram started his career with a post graduate degree in Mathematics, but during his 40+ years of enriching professional journey, he has equipped himself with various degree/ diploma/ certificates in diverse fields like law (B.G.L.), banking (C.A.I.I.B.), IT Audit (CISA), Project Management (PMP), Global Leadership (CGBL), Green & Black belt in Six Sigma, etc.

And to top it all, at the age of 59+, he was awarded with Ph.D. - Doctorate degree by University of Madras for his thesis titled "Information Technology and Samskrit". His intellectual thirst for learning is barely quenched by these.

The knowledge cycle starts with acquiring but is complete only when it is transmitted to others. Hence having acquired knowledge and gaining vast experience and expertise in varied fields it will not be complete without sharing it. And what better way to share than teaching. Thus his passion for spreading the knowledge is also getting satisfied. To mention a few he conducts training programmes and plays the role of visiting professor for a couple of business schools.
---